Anna Rosner
Author | Educator | Director of Books with Wings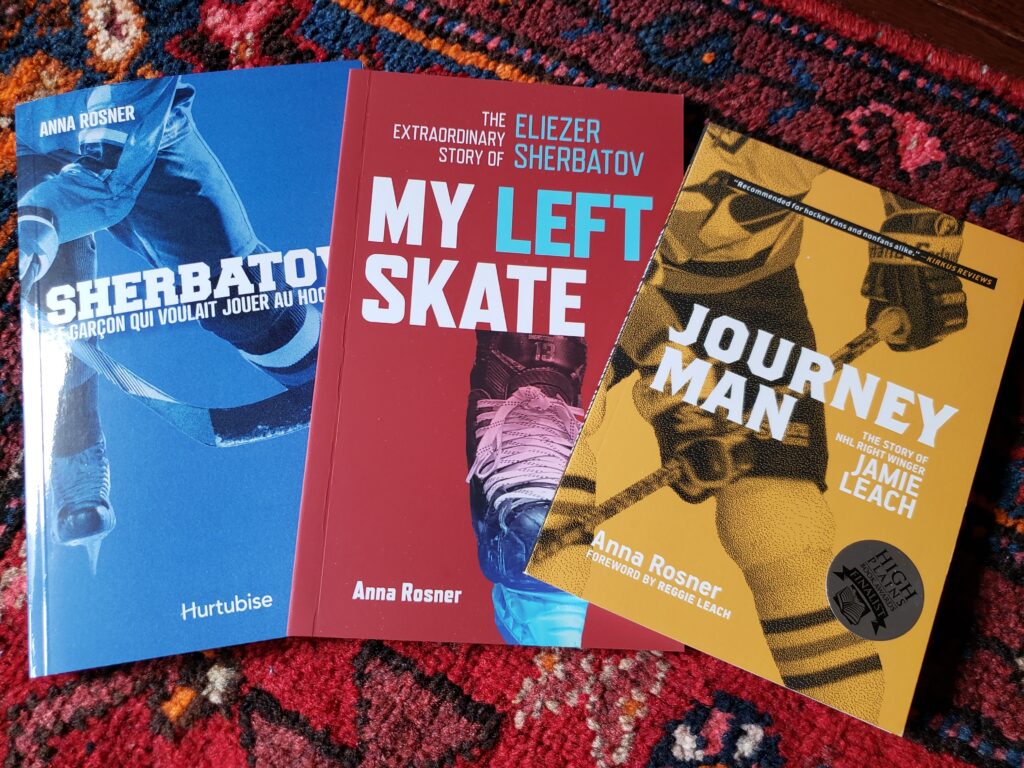 ---
Author of the acclaimed young adult biography My Left Skate: The Extraordinary Story of Eliezer Sherbatov (2022) and the award-nominated middle-grade biography Journeyman: The Story of NHL Right Winger Jamie Leach (2020).
---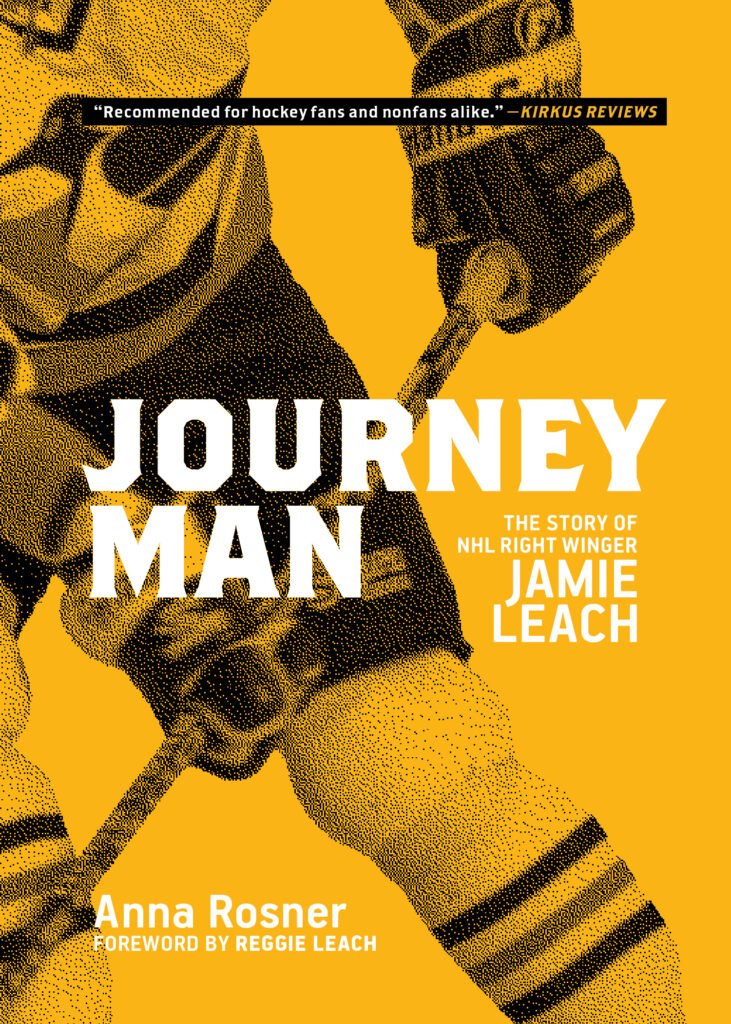 Finalist for the Great Plains Book Award and a "Best Book" selection by the Canadian Children's Book Centre, Journeyman is a first-person biography of Ojibwe right winger Jamie Leach, son of the legendary NHL superstar Reggie Leach. The story follows Jamie's fascinating hockey trajectory from his childhood years watching his father play for the Philadelphia Flyers, to his first goal in the NHL.
Journeyman touches on Jamie's summers on Lake Winnipeg, the World Junior Hockey Championships, his life in the minor leagues, and his eventual draft into the NHL as a Pittsburgh Penguin. Discover how some of hockey's biggest stars such as Bobby Clarke, Jaromir Jagr, and Mario Lemieux influenced Jamie's life.
Written in close consultation with Jamie and his mother, readers will learn about the struggles Jamie conquered, including his father's alcoholism and his own overwhelming self-doubt. A story of determination, heartbreak and perseverance.
RELEASED OCTOBER 2022, in English et en français!
Based on extensive interviews, My Left Skate: The Extraordinary Story of Eliezer Sherbatov is a first-person biography of a teenager who had it all on the hockey rink: guts, drive and exceptional talent. When a freak accident leaves him with a permanent disability and no feeling below his left knee, everyone believes Eliezer's career is over – everyone except his mother, a professional power skating coach. She teaches Eliezer to skate using the muscles in his upper leg, and after two and a half years of operations and rehabilitation, he returns to the rink to become one of Quebec's elite junior players.
Still undrafted at age nineteen, Eliezer embarks on a professional career in Europe in the hopes of one day returning to the NHL. His travels lead him to France, Kazakhstan, Slovakia, and to Poland, where he lives and plays hockey just a few kilometres from the Auschwitz death camp, haunted by memories of the past. In its stunning conclusion, My Left Skate describes Eliezer's life in Ukraine and his struggle to escape from war after Russia invades the very region in which he plays.
My Left Skate est disponible en français! Sherbatov: le garçon qui voulait jouer au hockey can be ordered on Amazon or from Quebec bookstores everywhere.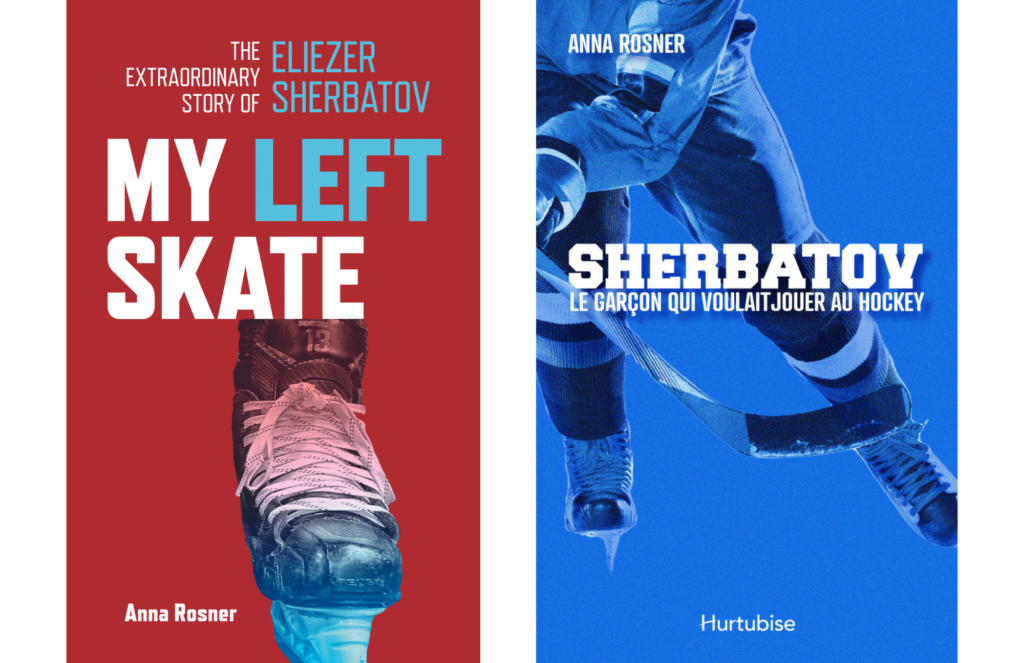 About the Author
Author

 

Anna Rosner is a Toronto teacher and author who has published essays, short-story fiction, numerous scholarly articles and the children's biography Journeyman: The Story of NHL Right Winger Jamie Leach (Great Plains Publishing, 2020), which was selected as a "Best Book" by the Canadian Children's Book Centre and was a finalist for the High Plains Book Award. Her second book, My Left Skate (Great Plains Publications), was published in October 2022., and was released simutaneously in French under the title Sherbatov: Le garçon qui voulait jouer au hockey (Editions Hurtubise). My Left Skate was featured in a full-page article in the National Post in December of 2022.
Educator

 

Anna holds a Ph.D. in Early Modern French Literature from the University of Toronto. Dedicated to promoting her love for words, Anna has taught French, English and literacy to children and adults ages five to seventy-five.
Director of Books With Wings

 

Anna is the director of Books with Wings (established in 2011), which provides new, quality picture books for Indigenous children who reside in isolated Canadian communities. Books with Wings has sent more than 21,500 brand-new books to kids, and is entirely volunteer-run.
---